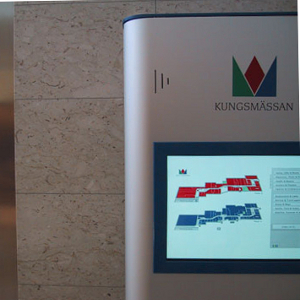 Well-designed self service terminals
We offer a variety of interactive computer terminals. These information kiosks are self service terminals that can be placed in any public building, such as libraries, hospitals, museums or shopping malls, allowing visitors to retrieve on-site information.
Two basic types of kiosks are available. The first one is a "lightweight" version consisting of a touch screen monitor mounted on a foot. This type of information kiosk is well-suited for libraries and hospitals, where users are under surveillance of the staff. Our more rugged versions feature a solid metal cover, protecting them from corrosion, tampering and vandalism. Our top models come with a seamless aluminium or stainless steel cover.
Touch screen access
The most popular form of self-service terminal is a touch screen, enabling easy access to on-site information and maps of the building or complex.
Branding and custom design
All standard models can be branded with your organization's logo and colours. We also offer custom designs made to your specifications. Please find a number of illustrations and photos below.
If you want to learn more about our information kiosks and custom designs, please get in touch with Carsten Dibbern at +45 4084 7900.